Deal Info
Below are the details of the deal you selected...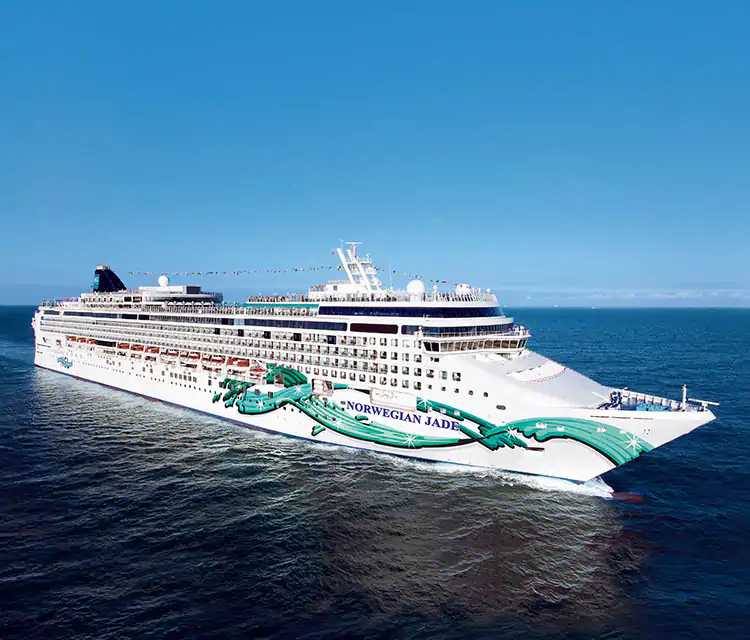 Reference No:
984314-HFC
Deal Ref:
284211
Depart:
Glasgow/Edinburgh
Destination:
Greek Isles & Italy on board Norwegian Jade
Dates / Times:
Departing 12th May 2019
Returning 23rd May 2019
Duration:
11 nights
Rating:
- premium all inclusive
Room Type:
inside cabin
Staying In:
Norwegian Jade
Description:
Your dream holiday is waiting on the Norwegian Jade. Sail on a Europe cruise and explore castles, cathedrals, romantic islands, and sophisticated cities. Toss your timetable to the breeze on a Caribbean cruise and bask on pristine beaches whilst enjoying island cocktails. Or take the world's greatest shortcut on a Panama Canal cruise. As you cruise from port to port along stunning coastlines, we'll keep you entertained day and night with exciting nightclubs, award-winning restaurants, a grand casino, swimming pools, a pampering spa and so much more. There's tonnes of fun for kids too, so bring the whole family and enjoy the adventure of a lifetime. It's no wonder we are the World Travel Award winner for "Caribbean's Leading Cruise Line" and eleven-time winner for "Europe's Leading Cruise Line."

Refurbished Through The Norwegian Edge
After extensive upgrades, Norwegian Jade returns to the fleet with new venues, modern décor and design, and refurbished staterooms. Enjoy O'Sheehan's Neighbourhood Bar & Grill, a 24 hour pub serving up your favourite comfort foods. Stop by The Pit Stop, a new concept that combines poolside fun and fare. Or dance the night away in the new Bliss Ultra Lounge. Get ready to journey to The Caribbean and Europe on the beautifully enhanced Norwegian Jade.

Ports of Call: EMBARK Rome (Civitavecchia) (Italy); Santorini (Greece); Athens (Piraeus) (Greece); Mykonos (Greece); Rhodes (Greece); Chania, Crete (Greece); Valletta (Malta); Messina (Sicily) (Italy); Naples (Italy); Florence/Pisa (Livorno) (Italy); DISEMBARK Rome (Civitavecchia) (Italy)

Also Includes:-
- Flights form Glasgow or Edinburgh
- Transfers
- Premium All Inclusive drinks
- up to $500 on board credit

.
Facilities:
O'Sheehan's Neighborhood Bar & Grill:
Dine on reinvented Irish pub classics whilst sipping your favourite draft beer, all in a casual atmosphere open 24 hours a day. There's no cover charge to dig into your favourite comfort foods and savoury Daily Specials, such as Prime Rib and all-you-can-eat Ribs, whilst taking in a sports game.

Alizar:
Dine in this intimate and inviting Main Restaurant offering the beautifully crafted Main Dining Room menus showcasing a variety of entrees and the freshest ingredients.

Garden Café/Kids Café:
Our buffet serves up complimentary breakfast, lunch and dinner - and the floor-to-ceiling windows provide picturesque ocean views. Action stations include meat-carving, made-to-order pastas, omelettes, waffles, soft-serve ice cream and more, including speciality dishes from around the world - satisfying your every craving.

Grand Pacific:
Stunning in design with ocean views, enjoy fine dining in this Main Restaurant featuring the beautifully crafted menus created specifically for the Main Dining Rooms.

Jasmine Garden:
Enjoy a complimentary Asian Fusion dining venue featuring freshly prepared noodles, delicious wok fried dishes, authentic soups, and more.

Room Service:
Available 24 hours a day, simply pick up the phone and order breakfast, lunch, dinner or late-night munchies. A convenience charge of $7.95 will apply to all orders (Continental Breakfast until 10am excluded, Suite Guests are excluded from the $7.95 charge at all times). A 20% gratuity and speciality service charge will be added to all beverages and special occasion menu items.

The Great Outdoors:
Come as you are, even in your swimsuit, to this casual, buffet bar serving grilled favourites like burgers, hot dogs and great ocean views.

Bliss Lounge:
Cruise into the clubbing scene at Bliss. Dance to a different beat and feel the excitement as you walk through the lit tunnel to the illuminated bar. It's electric. Bliss is a top hot spot every night of the week. Experience it.

Jade Club:
Bar located within the Casino.

Magnum's Champagne & Wine Bar:
Sip your favourite champagne and wine in this upscale art deco lounge.

Malting's Beer & Whiskey Bar:
Throw back a pint in this contemporary full service bar with a motif that reflects the production of beer.

Mixers Martini & Cocktail Bar:
The fun never ends at this popular spot to meet new friends and have a cool Cosmopolitan.

Sake Bar:
Tucked inside our Asian restaurant, this full bar also offers premium sake and imported beer.

Spinnaker Lounge:
Dance to a different beat and feel the excitement every night. Panoramic views make this the place perfect for parties and informal meetings.

Stardust Theatre:
It's show time! And we've got a really big show for you at the Stardust. Enjoy Broadway and Vegas-style shows in a Venetian Art Nouveau styled opera house with grand Venetian masks adorning the stage curtain.

Sugarcane Mojito Bar:
Freshly muddled just the way you like, enjoy a refreshing specialtly Mojito with friends - day or night.

The Great Outdoors:
Come as you are, even in your swimsuit, to this casual, buffet bar serving grilled favourites like burgers, hot dogs and great ocean views.

The Pit Stop:
Cool your engines at this "race car" themed outdoor bar. Relax with a frosty beer or enjoy the sights with a speciality frozen cocktail.

Topsiders Bar & Grill:
Enjoy casual dining to suit every taste. From grilled burgers to hot dogs, come as you are and eat as you like after a night out or before your day begins.

Please note that some of these facilities may incur an extra charge.

Although the Foreign Office currently have placed no restrictions on travel to this destination we recommend when travelling abroad anywhere you check the Foreign Office website for up to date information, this website can be reached on the following link.

https://www.gov.uk/government/organisations/foreign-commonwealth-office

We also recommend that you check with you doctor for up to date information regarding any inoculations that might be recommend

The full deposit on this holiday is £200pp and the balance is due 14 weeks before departure.

A low deposit may be available please call for details, subject to booking conditions.

We do not issue insurance, but you must have travel insurance. If you require a quote please phone Blue Planet on 0800 037 1321

Please note that due to the high volume of tickets in high season our company ticketing policy is that tickets will be dispatched 7 days prior to departure.
Property Images:
Image 1, Image 2, Image 3, Image 4, Image 5, Image 6, Image 7, Image 8, Image 9,
Operator:
H&FC Exclusive
Price:
From £1962
Per person, based on 2 adults sharing

If you want to book this offer, you can do so with your credit card through our secure server. You must read and agree to our Terms & Conditions before you can book.
01698 425444
If you would like further information or wish to book this offer, please call.