Deal Info
Below are the details of the deal you selected...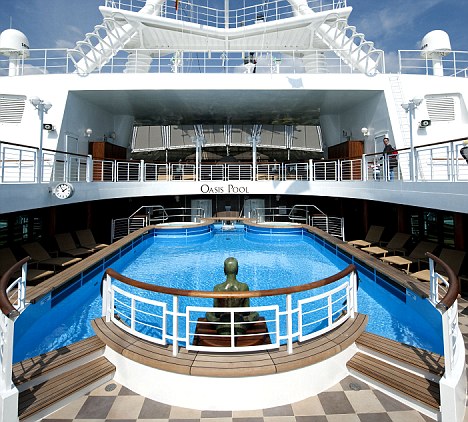 Reference No:
984296-HFC
Deal Ref:
284213
Depart:
Southampton
Destination:
Netherlands, Belgium & Guernsey on P&O Azura
Dates / Times:
Departing 27th Apr 2019
Returning 4th May 2019
Duration:
7 nights
Rating:
- full board
Room Type:
inside cabin
Staying In:
P&O Azura
Description:
Explore four ports over just seven nights aboard luxurious Azura
Fancy a magnificent 7-night adventure? This cruise offers a perfect mix of exploration and relaxation. Sailing to four exciting ports, you'll have more than enough time to see the sights, plus plenty of opportunities to enjoy the activities, dining and entertainment on board luxurious Azura.

Standard cabin facilities:
- Daily steward service
- TV, radio and telephone
- Hairdryer
- Refrigerator
- Safe
- Tea/coffee making facilities
- Air conditioning
- Vanity/writing desk and chair
- Wardrobe and drawer space
- If you are travelling with children between the age of 2 and 12, each child will have a helium balloon, bag of jelly beans and special bedding
- Pamper pack. Toiletries included: 100ml Shampoo, conditioner and moisturiser, 40g soap and shower cap

Ports of Call:
27 APR Southampton
29 APR Rotterdam
30 APR Bruges
02 MAY Cherbourg
03 MAY St. Peter Port
04 MAY Southampton

Sea View Cabin from £479
Balcony cabin from £599

https://www.youtube.com/watch?v=LH_ID2xQcEc



.

Facilities:
- Restaurants
There's a menu to suit every appetite, with dining in the main restaurants, including Marco Pierre White's five-course classic menu served on our Black Tie Gala night evenings, lunch and evening buffets, daytime grills, pizzerias, and snacks in pool areas, plus afternoon tea in the main restaurant and buffet.

- Accomodation
All cabins have air conditioning, Egyptian cotton sheets, tea & coffee making facilities, refrigerator, hairdryer, safe, TV and en-suite bathrooms with toiletries pack. Your cabin steward will look after your every need, and keep things spick and span.

- Entertainment
Dazzling shows, live bands and comedians perform in our theatres and lounges. Bars, libraries and art galleries allow you to choose your mood. And the Reef Children's clubs provide activities for tots to teens with age-specific clubs and activities on our family-friendly ships.

- Children's Clubs
The Reef is the icing on your cake for your children – and you! Our free on board programme for 2-17 year-olds is split into four distinct age groups; H20 for teens aged 13-17, Scubas for tweens 9-12 year olds, Surfers for tiddlers aged 5-8 and Splashers for tots 2-4 years old. A free night nursery service is available for 4's and under on a first-come-first-served basis. Our qualified and enthusiastic DBS-checked Rangers have devised lots of ways to keep the children entertainment during the day and into the evening. A small number of activities have an additional charge.

- Gym
Use of the gym is included and you'll find it equipped with Technogym machines including bikes, treadmills, cross trainers and steppers, as well as free weights. A number of fitness classes are inclusive and Fitness Instructors are always on hand to give advice.

- Pools & Relaxation
Each ship has several pools of varying sizes and depths, and a number of whirlpool spas. Some pools are for adults only and some are covered by retractable Skydomes for swimming in inclement weather. You also find saunas and steam rooms in the Oasis Spa that you're welcome to pop along and use.

- Sports Deck
Play football, basketball and deck tennis in the enclosed sports court. Practice your swing in the golf nets and stretch your legs on the ship's sports deck or promenade. Other games include shuffleboard and deck quoits.

- Dance Classes
Whether you fancy yourself as the next Strictly Come Dancing star or you think you've got two left feet, you're sure to improve your moves when you join in one of our on-board dance classes.

- Shuttle Buses in Port
Shuttle buses are provided free of charge in destinations where they're necessary to exit the port. In all other destinations they're included if you paid the Select Price when booking your holiday. If you opted for the Early Saver or Saver Price when purchasing your holiday, they will be available to you at extra cost.

- Special Events
Every day on board is different and our special events add even more variety to your holiday. There are movies or quizzes, talks, demonstrations and classes by all fields of experts run throughout the day. Black Tie evenings with five-course Gala menus, theme nights, deck parties, interviews and seminars with guest speakers, galley tours and deck barbeques are just a few other examples.


Please note some facilities may incur a local charge.

Although the Foreign Office currently have placed no restrictions on travel to this destination we recommend when travelling abroad anywhere you check the Foreign Office website for up to date information, this website can be reached on the following link.

https://www.gov.uk/government/organisations/foreign-commonwealth-office

We also recommend that you check with you doctor for up to date information regarding any inoculations that might be recommended.

The deposit on this holiday is £200 per person and the balance is due 14 weeks before departure

A low deposit may be available please call for details, subject to booking conditions.

We do not issue insurance, but you must have travel insurance. If you require a quote please phone Blue Planet on 0800 037 1321.

Please note that due to the high volume of tickets in high season our company ticketing policy is that tickets will be dispatched 7 days prior to departure.

Property Images:
Image 1, Image 2, Image 3, Image 4, Image 5, Image 6, Image 7, Image 8, Image 9, Image 10,
Operator:
H&FC Exclusive
Price:
From £449
Per person, based on 2 adults sharing

If you want to book this offer, you can do so with your credit card through our secure server. You must read and agree to our Terms & Conditions before you can book.
01698 425444
If you would like further information or wish to book this offer, please call.